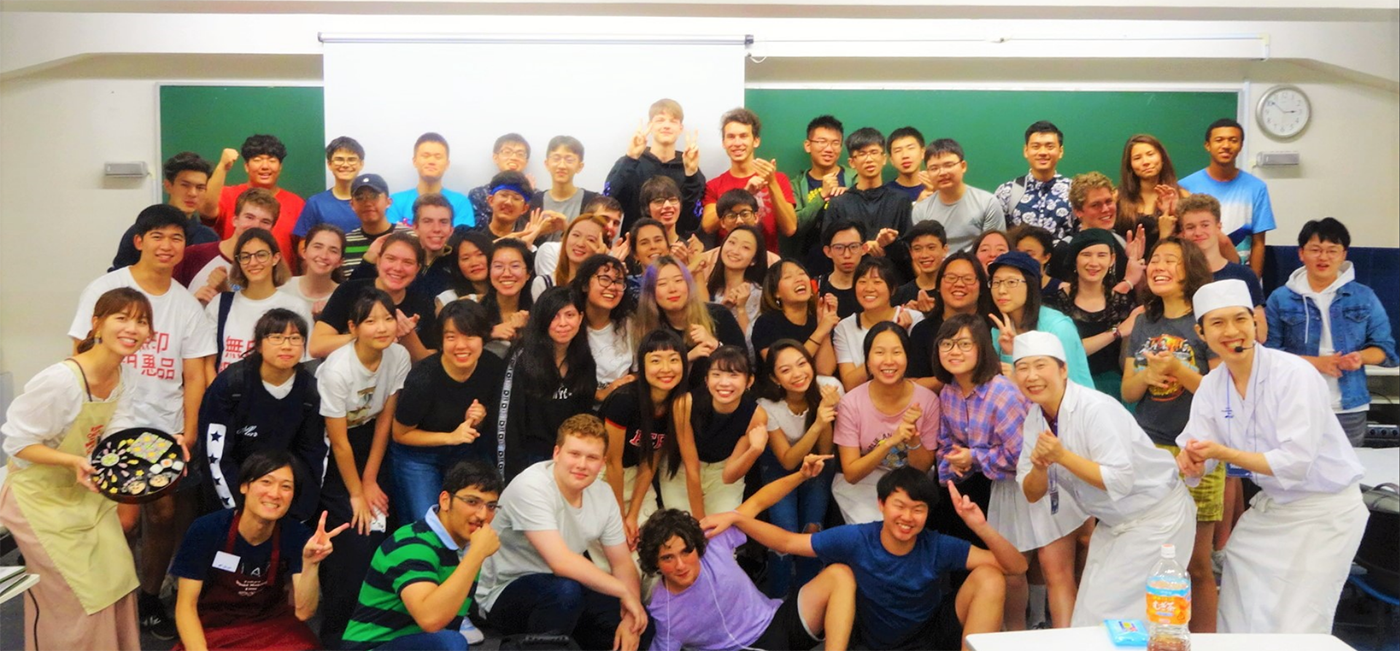 ※ From Jan,2023, we limit the number of participants up to 40 for the time being.
Large Group Sushi Making Class is suitable for "Group tours" and "School trips".
If you are looking for a fun activity in Tokyo, let's enjoy making sushi together!
Sushi Making Class Flow
We will look at the etiquette and trivia of Sushi with the sushi quiz.

You will then learn how to make 3 different types of Sushi.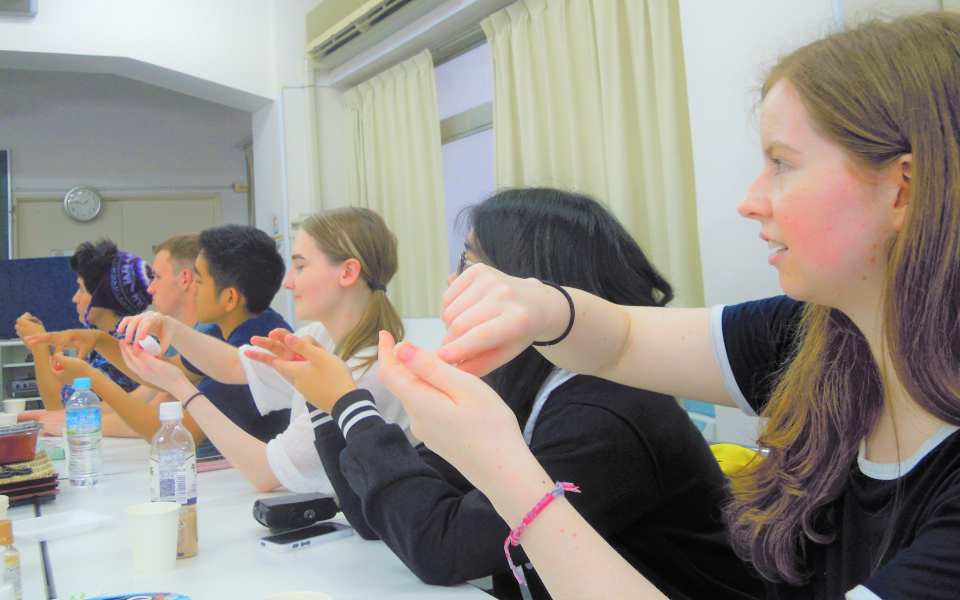 You will even learn the history of Sushi and Japanese useful phrases.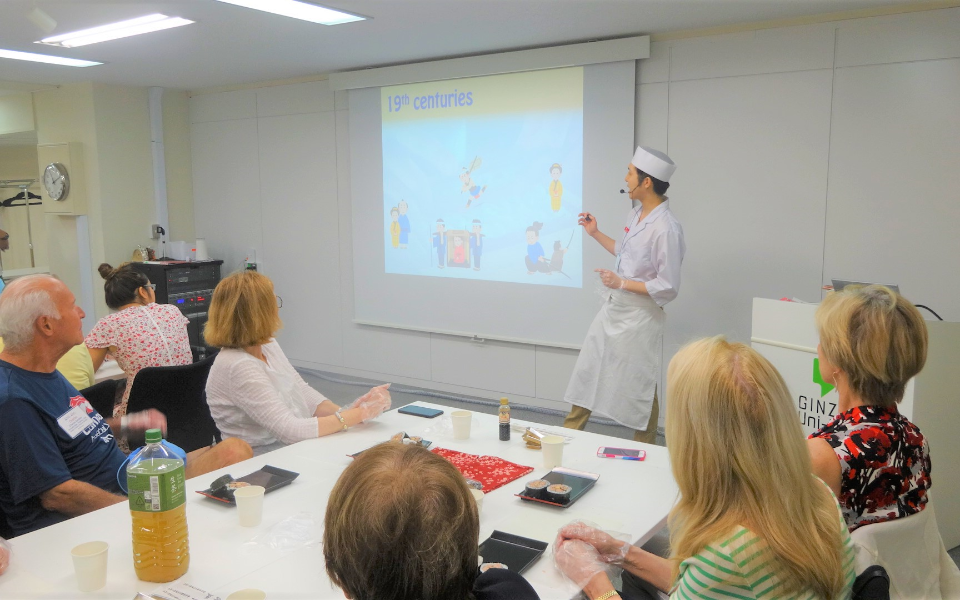 Then you get to eat your own sushi!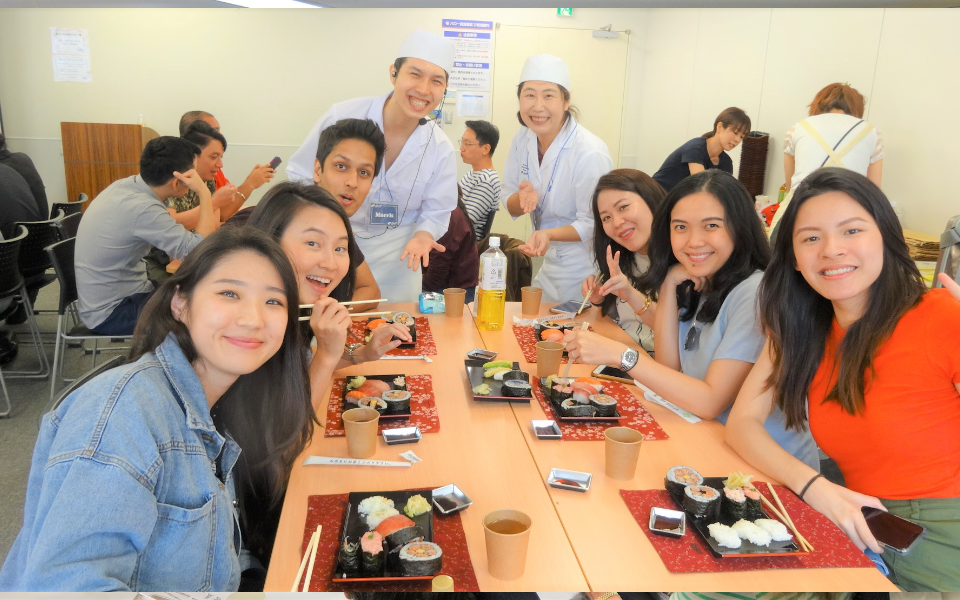 Suhi Making Class Course
In our sushi class, you will make 3 different types of sushi, Decorative sushi roll, Nigiri-sushi and Battleship-roll, whose amount is enough to get you full.
On the regular menu, we usually use raw fish. (Sushi toppings will vary depending on what we have in stock.)
Regular menu
But we can prepare alternative ingredients for those who don't like raw fish or who have dietary restrictions.
Large Group Sushi Making Class info
Language
English
All instructors can communicate in English.
Date & Time
Monday to Friday, excluding Japanese national holidays
You can choose the starting time between 10:00 and 18:00.
The sushi making class lasts 2 hours including eating time.
We recommend you start from 10:30 or 17:00 so that you can start eating around 12:00 or 18:30 which is a good timing for lunch or dinner.
Place
We do not own a specific venue for the large group sushi class so we will arrange a private venue based on your itinerary and the size of the group.
We will inform you of the meeting point after reservation is confirmed.
Price
Total (Tax included) = Number of people × JPY 8,500 + Venue rental fee

Number of participants
Unit price
Venue rental fee
9

~

20
JPY 8,500 per person
JPY 40,000
21

~

30
JPY 50,000
31

~

40
JPY 60,000
41

~

50
JPY 70,000
51

~

Contact us
Payment
Bank transfer
(Cancellation Policy)
~2 days before・・・30%
The day before・・・50%
On the day・・・100%
Download a brochure for more information.